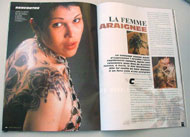 Tattooing as a form of expression? Araldhe will have quickly realized. After meeting with Niko Kustom Tattoo in Paris, the duo works. She says her canvas back. It will that of a spider. Some are addicted to pills for araldhe is the tattoo. "I just wanted to tattoo a spider at first and then I have not been able to stop me." After a peaceful childhood in the Caribbean, leaving the islands Araldhe majority. His artistic soul opens the doors to a fashion school in the capital. Today, a hairdressing diploma in hand, she tries to open her own salon. It's her father she should attraction to ink. "He was a sailor, and had a F dive, an initial ex-fiancée. It always intrigued me." Point it will throw a massive spider on the scapula seven years later.
Reluctance to cause arachnids, Araldhe, on the contrary, is particularly fond of. "A spider is very feminine, contrary to what people might think. It is elegant when it works, full of grace. Female who am I, it gives another facet of my personality." It's Kustom Tattoo Niko who will undertake this work long-term. "I gave him carte blanche to my back. Almost drew it freehand." Araldhe between Niko and Kustom Tattoo, we can mention a perfect alchemy, the two artists in search of difference. "My back does not look like what is happening today is unclassifiable. A simple reason would not have agreed." Today araldhe evokes the tattoo as a lifestyle, a state of mind. "This is a transformation for me, almost a mutation. Reactions of people I like. I gained a new confidence in me." Araldhe became at the same time an avid conventions. Depart Rome and Strasbourg detour or she wins the prize for the most beautiful piece black and white. She continues her epic in Berlin, where she goes under the needle Florence Amblard for his leg. "It will be a spider again with some variations and certainly a different approach." Florence is a girl, no risk of it falling into his net.
"Five percent of my clients have no idea of what they want-whether it's a tattoo. They push the door of my studio and I try to open their minds to the possibilities of the tattoo. ' Niko, this scenario is very promising. "We work together, we learn from each other and we try to create something unique. Process is one that gives the best results" says Niko. However, Niko quickly added that he is not reinventing the wheel. "I try to go back to the classics. I like very pain-such as Delacroix, Van Dyke, Munch and Dali and the Impressionists in general." Inspired by these artists packed imagination, Niko believes that the tattoo artist is able to direct his art to new and unforeseen directions. The act of opening a studio in Paris, France, allowed Niko to use artistic trends underlying its culture. "I am a young artist packed these ima-gination, Niko believes that the tattoo artist is able to direct his art to new and unforeseen directions. By opening a studio in Paris, France, allowed Niko use artistic trends underlying its culture. "I'ma young tattooist and I still need to grow in the arts," he said. Niko took courses at the Academy of Fine Arts Paris to complete his education regarding the proportion and depth. course Before this, Niko tended to practice a style heavily influenced by the culture of comic Heavy Metal. "I am passionate about the illustration comics from my childhood. It is six or seven years that I discovered comics, "says Niko. Although this influence is reflected in his tattoo, Niko said he does not want to confine to a particular style. "It is very important for me to try to do what the customer asks me. Therefore, I would con-tinue to diversify my mixing styles to meet the needs of my clients and help them realize their ideas ". Niko also said that "some clients come to an artist because they like his style. I refuse trap so. That I would not like to do the same thing. Diversity is what motivates me and increase my creativity. "To do this, it happens that a certain technique Niko studied for months to master every aspect. II also meets regularly with other Parisian tattooist to put their ideas into share and discuss their hopes and dreams for the future of tattooing in their region.
"In Paris, the tattoo is fashionable at the moment, a bit like in the 1990s in America. People feel that there is money to be made and they open studios every corner. This is one of the saddest aspects of the growing popularity of tattoos. On the positive side, it should be noted that the French began to accept tattoos as a legitimate occupation and an art. This has increased the number of potential customers, "says Niko. Asked how his studio, Niko indicates that the benefits of the custom method earned him an increase in its clientele. A Paris, people have the choice between studios that offer flash to all comers and those who have a more creative approach. The result is that customers prefer his serious approach. "I laugh in the face of tattoo artists who work only to earn money," he said . they will spend ten minutes trying to convince someone to get a tattoo while I spend days drawing for one customer. Ultimately, who has chosen me to congratulate themselves. " This mode of operation based on quality has enabled Niko enhance their skills, because he was asked to do better and constantly produce good quality tattoos. In the future, Niko continues with more energy goals. First, in January 2004, he opened a larger studio that will stick with his apprentice and a long list of guest artists from around the world. The studio will be open today pourservir of personal workspace to Niko. In addition to these projects, Niko plans to attend many tattoo conventions, including the highly anticipated Strasbourg, France, in October 2004. It will also start to California to work as a guest in several studios. Niko is eager to jump into new horizons for the following reason, "I could not go abroad in recent years, because it was important for me to make a success of Kustom Tattoo. Whereas before I traveling around the world by plane, I now travel on the skin of my clients! "